By: JPT Captain, Blake Quall
In the summer, shallow weed lines are full of life. The weeds hold bait, tons of panfish and a magnitude of game fish ranging from bass to muskie. In these summer months, anglers are quick to key in to the great shallow-water bites.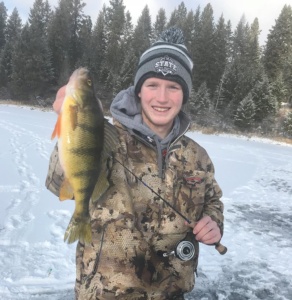 However, come winter, anglers tend to focus more on the deeper panfish holes abandoning the great weed lines that produced fish all summer. Good green weed beds will continue to produce quality fish all winter especially on first and last ice. Green weeds produce oxygen which, in turn, attracts baitfish and all other species of game fish looking to feed. Therefore, while the bite window on weed lines may shrink come winter, the fish will be very active when they do move in.
When looking for a good weed bed to fish, I use lake maps to find large flats in about ten to twelve feet of water. The most promising spots will also have a deeper hole nearby for fish to stage in. Then, using my MarCum, I scan holes looking for the tallest, green stands of weeds. Once I've located a good stand of weeds, I'll set up on the edge of them and wait for the fish to move in!