Al's Goldfish Lure Company Partnering with Outdoor News Junior Pro Team

Eliot, ME (May 2023) Young anglers who are part of the Outdoor News Junior Pro Team program will have the chance to win a special prize pack thanks to Al's Goldfish Lure Company. In the month of May, Al's Goldfish Lure Company is partnering with the Outdoor News JPT to sponsor a weekly prize pack for a drawing for members of the JPT.
According to Al's Goldfish Lure Company co-owner, Amanda DeBuigne, the emphasis was to put together a pack that gave teen anglers a greater opportunity for success on the water. "The Outdoor News Junior Pro Team is geared towards providing young outdoor enthusiasts with a resource to build their angling skills, and through our partnership, there will be four JPT members who will net an Al's prize pack containing over $200 of tacklebox fishing gear and swag." DeBuigne said. "We are celebrating over 70 years of American manufacturing, so the prize pack has some special items, such as Al's limited edition 70th Anniversary commemorative two-tone lures, and an Al's 70th Anniversary commemorative Buck® filet knife. The pack includes over a dozen lures, a trolling rig, hook covers and several other accessories that are ideal to set these JPT members up for success." she added.
The Outdoor News JPT program is for youth ages 18 and under who enjoy the great outdoors, with a robust social media platform and website built to celebrate their hunting and fishing success. Membership is free, and JPT members enjoy access to pro tips to build their expertise, the sharing of photos and videos, and opportunities to receive special industry discounts and win prizes.
Al's Goldfish Lure Company has been around since 1952, but has expanded globally under the ownership of Jeff and Amanda DeBuigne, who purchased the company in 2018.  With American-made products, the selection of lures available through Al's covers anglers for panfish, trout, salmon, bass, walleye, pike or muskie, with baits to use while casting, trolling or jigging. Al's lures are made of solid marine brass, are plated by a jewelry-plater, and are hand-painted.
The company's flagship product is their Goldfish lure, and is well known among older generations who were brought up with the Goldfish as their first lure.  The Goldfish comes in several weights and colors and pattern options for both fresh and salt water, but what's really magic about it is the action. It's a wobbling spoon, and it attracts fish because it looks like food moving through the water when retrieved. Anglers can also jig the Goldfish, and it will flutter and flash on the drop.
Al's offers three other spoons including the 49'er, the Helgy, and the Water Witch. According to Al's, the 49'er is a great jigging spoon, but is also favored as a trolling spoon. DeBuigne noted, "Our customers catch a lot of different species on this lure, including walleye, sauger, northern pike, trout and panfish.!".
The Helgy has its own cult following of anglers that is steadily growing as more people give it a try.  The Helgy is styled to look like the Hellgrammite, which is the larval stage of the Dobson Fly and lives in the water. DeBuigne noted that while they personally like fishing the black Helgy, most anglers choose the plated versions, or the bright chartreuse. Trout and smallmouth seem to favor this spoon.
The Water Witch spoon offered by Al's has a funky shape that gives it a very pronounced wobble when retrieved, and a wide flutter when jigged.
Al's Goldfish also has a variety of accessories, including hook bonnets that work on both single and treble hooks, which are included in the prize pack for the lucky JPT members to be drawn in May.
Learn more about Al's Goldfish Lure Company at www.alsgoldfish.com.
Only members of the JPT are eligible to win through this promotion, with additional ways for members to earn bonus entries to be announced throughout the month of May by the Outdoor News JPT in the newsletter and social media. Youth ages 18 and under can join the Outdoor News JPT for free at www.jrproteam.com.
Catch Coach Brody talking about this epic prize pack here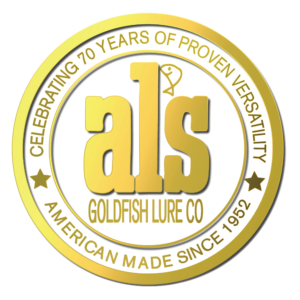 Special offer for JPT members!
Shop Al's site and when you enter the code JPT at checkout, you'll enjoy a 25% discount!
| | |
| --- | --- |
| Discount Code | JPT Member Exclusive! |
| Click here to shop | enter JPT at checkout, 25% will be deducted from order |