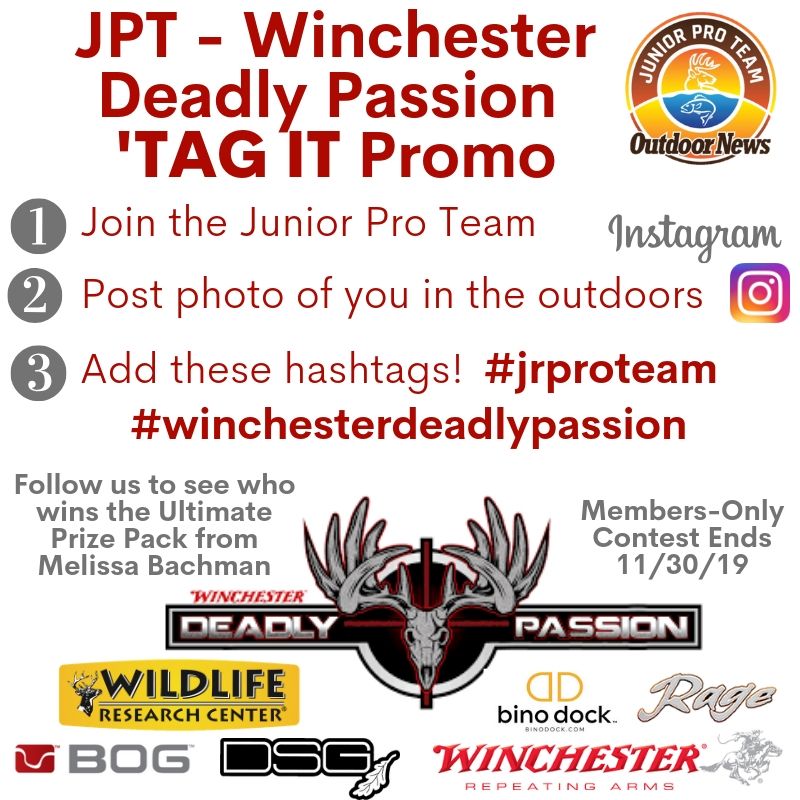 Prize Pack Includes: Hooyman® Ratchet Pruners, Rage™ 3-pack Hypodermic Broadheads, Scent Killer® No Zone Spray, Winchester Deadly Passion T-shirt, Winchester Deadly Passion Stickers, Bino Dock Cupholder, Caldwell Sling, Bog-Pod™ Shooting Sticks, DSG Face mask, Winchester cap/ dog toy/dog collar/ Frisbee/ portable dog watering bowl and keychain, Bog-Pod™ hat, and Nockturnal™ Lighted Nocks.
Details:
Contest launches Friday, August 30 and runs through Saturday, November 30, 2019.
One winner will be announced no later than Friday, December 13, 2019
We will announce winner on social media and the JPT website. We will contact you using the information (your Instagram handle) included in your JPT membership application.
*If you are uncertain if your Instagram handle was missed on your application, you can send this information to the Junior Pro Team at [email protected] – make sure to include your full name and JPT membership number!
A panel of judges comprised of Outdoor News staff will conduct selection of the winner.
Prize package provided by Winchester Deadly Passion cannot be substituted for a cash award.
Rules:
Youth age 18 and under are eligible. Free membership into the Outdoor News Junior Pro Team is required. US residents only. Not a JPT member yet? Join For FREE Here
Entries are required to post a picture of themselves enjoying the outdoors in a hunting, trapping, fishing or other related activity and must include the hashtags: #WinchesterDeadlyPassion and also #JrProTeam. Instagram postings are the only social media channel that will be considered for this contest. Please include your name in the post!
Entries may also be used in other Outdoor News/ Junior Pro Team promotions without further compensation.
You can enter the contest multiple times, provided the photos you submit showcase different species or experiences. (You cannot enter multiple times using the same game or fish using different camera angles.)
Photo must be of your personal outdoor experience.
You cannot use someone else's photo of wildlife or conservation related projects.
Person in photo the same as the one who harvested the game or fish.
To be eligible photo and hashtags must be posted on Instagram before 6pm CST on November 30, 2019.
Prize package provided by Melissa Bachman/ Winchester Deadly Passion to include product from brands including: Wildlife Research Center, DSG Outerwear, Rage Broadheads, BinoDock, Winchester and BogPod.
Winning prize package will be shipped to the address used for JPT membership application.
Photo Tips:
Safety first! Never attempt to take a photo of a wild animal or reptile that would put you or people with you in danger.
Use a flash to take out shadows.
Take photo closeup and shift angle or move to eliminate background clutter.
Do not sit on deer for photo.
Clean up visible blood and make sure the animal's tongue doesn't show.
Do not wear sunglasses in the photo.