By Joe Shead
Contributing Writer
What a change it must have been for waterfowl hunters back when decoy manufacturers started creating plastic fakes after hunters had used wood or cork decoys for years. The new plastic decoys were lighter, easier to carry and required less maintenance.
Decoys have come a long way since those first plastic innovations and, believe it or not, they keep getting better year after year. Manufacturers are constantly trying to improve upon their products and give hunters what they really want: realistic decoys that can withstand the rigors of waterfowl hunting.
The trend these days is to create decoys based on carvings by world-class decoy carvers. And Granddad, whose flock of a dozen mallard dekes all faced straight ahead, would be astounded by the variety of body positions offered these days. Decoys come in feeders, swimmers, sleepers, high-head and low-head positions. Some heads are even adjustable to ensure endless variety.
And today's decoys are incredibly realistic. Smooth bodies have been replaced with detailed feathering. Generic paint schemes have been improved to the point it looks like a taxidermist took the time to painstakingly paint each decoy for the wall. Hunters may have to do a double-take to determine whether they are looking at decoys or the real thing. Flocking has been around for years, and it continues to add realism while creating a non-glare finish. This fuzzy coating is applied to either just the head or the entire body of a decoy. It adds to the cost, but the results look amazing.
Realistic paint is great for mantle pieces, but in the field, decoys are pitched into the water, coated with ice, tossed into sacks, stepped on by paws and boots, and spilled out onto boat floors. These paint schemes have to endure a lot of abuse. That's why decoy makers have now developed specialized coatings to keep their paint from chipping or scratching.
In addition, the decoy bodies have to hold up. Some of those old hollow plastic jobs could be crushed when a retriever placed an errant paw on them. Today's plastic is flexible to withstand tough conditions. Some makers are even adding foam to the inside, which makes the blocks virtually indestructible and unsinkable.
Of course, adding motion to your spread helps attract birds from a distance and finish them when they approach. No longer just a novelty, motion decoys are available that swim, bubble, dip and spin their wings. Decoys just keep getting better. Let's take a look at some of this year's offerings.
Mojo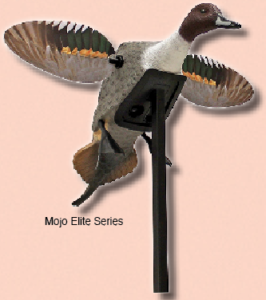 Mojo has re-engineered the guts of its Elite Series spinning-wing decoys to make them quieter and more user friendly. The motor, transmission, power supply system and body are all attached to a solid housing that attaches directly to the three-piece mounting pole. A flexible shell with a realistic paint scheme covers the housing. Wings attach to the decoy magnetically. Changing batteries is easier than ever – they simply drop in. The result of these improvements is a quieter decoy with less noise and wobble and greater ease of installation. Mojo offers its Elite Series decoys in several different species. mojooutdoors.com 
Avery
Avery's GHG Pro-Grade XD decoys take realism and durability to the next level. They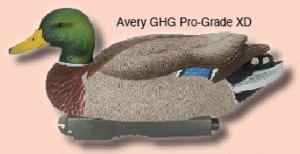 project the posture and attitude of wild ducks, and come in active, surface feeding and mixed harvester packs. The DuraSoft supply body material cuts glare, yet withstands rough handling. The blocks are topped off with Avery's D2D color-shift technology, which uses vibrant paint with unmatched durability. The 60/40 DuraKeel gives these decoys the perfect ride in any chop. averyoutdoors.com
Flambeau
Flambeau's Gunning Series decoys draw on some of the forgotten techniques of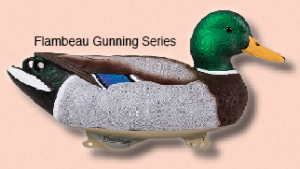 yesteryear's decoy carvers. The decoys feature a rounded hull and a low-profile skeg-style keel with stainless-steel weight inserts. The specially designed keel gives the dekes a natural swimming motion in all water conditions. In calm water, the rounded hull and minimal keel drag allow the decoy to swim in a slight breeze. In current, the round bottom pushes water down and away, while a traditional decoy would direct the water up and over the decoy. Gunning Series decoys ride better and higher, with no fishtailing. In big water, the keels help all decoys swim in unison just like live ducks, while other keel designs often result in random, uncoordinated movement. The decoys also work in very shallow water, making them ideal for flooded fields. They feature Uvision paint technology and are available in standard or foam-filled models. flambeauoutdoors.com
Dakota Decoy
Dakota Decoy introduces its Lesser Honker Floaters for this fall. These decoys are made of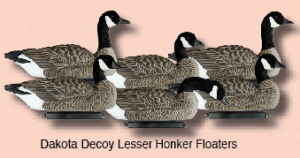 soft, pliable MEVA plastic for durability and superior paint retention. The dekes feature realistic detail, and each six-pack comes with three different head positions. Lesser Honkers Floaters are also available in EVA plastic. These decoys can be deflated and packed into smaller bags, allowing hunters to transport more decoys more easily for those hard-to-access walk-in hunting areas. dakotadecoy.com
Avian-X
Avian-X adds Oversized Mallards and Oversized Black Ducks to its Topflight decoy line. At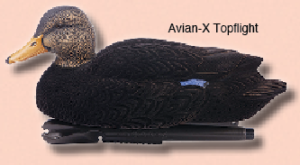 17 inches, these decoys are 30 percent larger than standard models for better visibility and stability on the water. Topflight models are molded from an advanced rubberized material for durability and feature ultra-realistic, non-chip paint. The bodies of the black ducks (but not mallards) are fully flocked for a non-glare finish and added realism. The weight-forward swim keel gives decoys a natural swimming motion on the water. Each six-pack includes two high-head drakes, two low-head drakes, one high-head hen and one low-head hen. They are available in standard or foam-filled models. avian-x.com
DOA Decoys
Open Water Series Blue Bills from DOA Decoys are filled with high-grade, closed-cell foam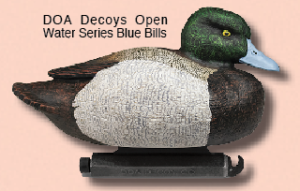 to withstand the elements – as well as stray pellets taken when shooting at low-flying divers. The decoys are individually hand painted with ultra-realistic paint processes. They feature recessed weighted keels for stability on the water. The six-pack includes three upright drakes, two rester drakes and one hen. doadecoys.com