New tools of the trade prove ideal for trophy fish and more
Park Falls, WI (April 11, 2019) – Kayak fishing is a unique game that requires a certain set of tools to do the job right. And part of that? The right fishing rods. Enter St. Croix's recent introduction, the Mojo Yak series.
St. Croix's Mojo Yak series (Casting and Spinning) was designed from the ground up to serve kayak anglers specifically. St. Croix's Mojo Yak features premium, high-modulus SCIII carbon blanks with integrated Poly Curve® mandrel technology and the added benefit of a custom Winn, split-grip handle. Available in two casting and six spinning models, the Mojo Yak delivers the high-powered backbone to hoist fish up from water level and the sensitivity to understand exactly where your lure lies underwater.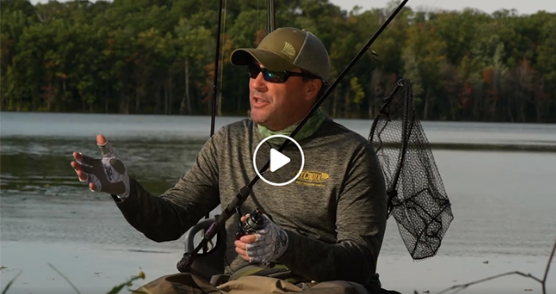 Mojo Yak Features
Integrated Poly Curve® (IPC®) mandrel technology.
Premium, high-modulus SCIII carbon.
Kigan Master Hand 3D guides with slim, strong aluminum-oxide rings and black frames.
Fuji® DPS reel seat with black hoods on spinning models.
Fuji® ECS reel seat with black hood on casting models.
Custom Winn split-grip handle.
Kigan hook-keeper.
Two coats of Flex-Coat slow cure finish.
5-year warranty backed by St. Croix Superstar Service.
Designed to provide superior performance and exceptional balance for kayak anglers.
Designed in Park Falls and handcrafted in Fresnillo, Mexico.


A host of kayak anglers have already taken to the Mojo Yak series, singing its praises. From tournament kayak anglers to weekend warriors to anglers who work in the fishing industry like Hobie's Sr. Fishing Brand Manager, Morgan Promnitz, the feedback has been very positive. Part of that includes Promnitz's remarkable catch of a bass that's been estimated anywhere between nine and twelve pounds, a feat he says wouldn't have been possible without a Mojo Yak rod, which allowed him to wrestle the fish successfully out of a veritable jungle of aquatic vegetation.
Promnitz was on a trip this past February to film a Hobie Outdoors Adventures TV show. As part of the shoot, St. Croix provided a collection of new Mojo Yak rods for the anglers to use. "Most of the time I used the MYC70MF 7' medium power, fast action baitcasting model. At first, it seemed a little light for throwing frogs and Chatterbaits and fishing for a little larger bass, but I couldn't have been more wrong," says Promnitz.
"The Mojo Yak rod was pretty amazing because the fish buried me in the hydrilla to where I couldn't get any leverage on the fish or move it. I had 65-pound braid tied straight to my Chatterbait and I couldn't get this fish out of there—it was almost like my line was underneath a bunch of hydrilla and the fish was on the other side and together had formed this strong single unit. I ended up dipping the rod in the water and basically reeling the fish through the hydrilla, guiding it with the rod where the fish was almost on my rod tip. Finally, I used the rod to pull the fish up near the surface and slipped the net under it and it kicked its tail and flopped right into the net. We didn't weigh it but our camera man guessed 12 pounds, I guessed 10. It was a big, beautiful bass that really put the Mojo Yak MYC70MF casting rod to the test."
Promnitz says that if he wasn't already, after landing that big bass he was absolutely sold on the Mojo Yak series as an awesome tool for kayak fishing.
"St. Croix landed on a fantastic balance of everything kayak anglers are looking for. In my opinion, if it can catch a fish like that, it can catch pretty much anything because I was definitely doing things to that rod that you're not supposed to. And I think that's the beauty of what St. Croix did with the final design of the Mojo Yak series – the action, the components they used, the shorter handle—all that feedback they got from kayak anglers during the design stage. And not only do these rods work great for kayak angling but they have their advantages for using on a boat or fishing from shore. Another thing I like about the Mojo Yak rods is if you're a freshwater angler or saltwater angler it doesn't matter—they work in both environments and cross over and use them for fishing about anything in lakes, rivers, or inshore saltwater."