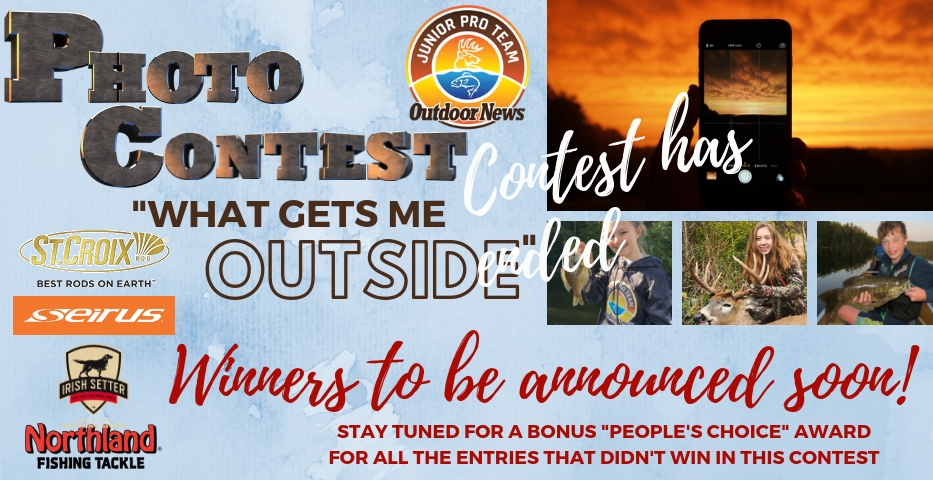 THIS CONTEST HAS ENDED! Stay tuned and keep an eye out for a copy of Outdoor News to see who won!
This contest offers great prizes and awards to 24 total winners! It's open to US residents ages 18 and under who are members of the Outdoor News Junior Pro Team. (Don't worry - If you are not already a JPT member, your entry here will automatically sign you up! It's completely FREE! See the link at the end of the form for more info on the Junior Pro Team.)
We'll be awarding:
1- Grand Prize
10- Runner Ups on final selection
4 – Best of Class (One per category: Hunting, Fishing, Nature Photo and All Other Outdoor Activities)
9 – Individual Weekly Winners

This is a photo contest. The rating system will be on photo quality, including composition and clarity. Check the rules and tips below.
A panel of judges comprised of Outdoor News staff will conduct selection of the winners.
We will announce winners on social media and the JPT website. We will contact you using the information included in your entry. This contest runs Oct. 1-Nov. 30, 2018. (Note that you'll find the actual entry form is only available during the contest period!)
Sorry. This form is no longer available.
Rules:
Youth age 18 and under are eligible. Free membership into the Outdoor News Junior Pro Team is required. US residents only.
Entries accepted on official entry form online only.
Entries may also be used in other Outdoor News/ Junior Pro Team promotions.
You can enter the contest multiple times, provided the photos you submit showcase different species or experiences. (You cannot enter multiple times using the same game or fish using different camera angles.)
Photo must be of your outdoor experience.
You cannot use someone else's photo of wildlife or conservation related projects.

Person in photo the same as the one who harvested the game or fish. Identifiable information is required as outlined in the entry form.

Entry must be received by November 30, 2018.
Photo Tips:
Safety first! Never attempt to take a photo of a wild animal or reptile that would put you or people with you in danger.
Use a flash to take out shadows.
Take photo closeup and shift angle or move to eliminate background clutter.
Do not sit on deer for photo.
Clean up visible blood and make sure deer's tongue doesn't show.
Do not wear sunglasses in the photo.
Click here to see all the submissions and view some of the prizes you can win.
View the awesome prizes you could win with your photo entry.